Since the emergence of internet technology services, enterprises, organization are continually dealing with increasing workloads or what is commonly known as the 'big data'. Managing workloads include the proper alignment of company data, resources and targeting them towards desired business outcomes.
For any organization, managing these workloads can be difficult sometimes, especially when it lacks the required IT skillset. Hiring or training the existing IT teams can be both time-consuming and expensive.
Moreover, with the IT industry facing issues with digital transformation like transitioning from hardware or software solutions to as-a-service cloud solutions, they need help in selecting the right technology stack, its implementation and support to ease their transition. Here, the role of Managed Services Provider comes in.
Before we jump on to understanding the role of managed services providers and the latest managed services trends, it is imperative to know what are managed services.
What are managed services?
Under Managed Services, the users make use of application or resources that are completely managed by a third party i.e. a managed service provider. The MSPs allow users to outsource their various network and application needs with complete support. The applications are hosted and managed by the managed service provider only.
Gartner explains a managed service provider (MSP) as A managed service provider (MSP) delivers network, application, system and e-management services across a network to multiple enterprises, using a "pay as you go" pricing model.
Role of Managed Services Provider
Hosting and managed service providers play an active role when it comes to helping enterprises evaluate right digital transformation strategies, migrate workloads, managing networks and infrastructure, backed with securing data and applications.
There presents a vast set of opportunities for managed service providers with increasing application and infrastructure migration from on-premises to cloud.
The cloud managed services market size is projected to grow from USD 27.15 Billion in 2017 to USD 53.78 Billion by 2022, at an expected CAGR of 14.6%. – marketsandmarkets.com.
But, it's important to know where and how opportunities are appearing and what will be the benefit to the early adopters.
Latest trends in managed services and web hosting industry
Following are the managed services trends and web hosting industry trends that will provide a guide to market opportunities for providers of these services:
1) Increasing Web Hosting and Cloud computing trends
The enterprises will continue their shift towards Hosting and Cloud Services. A report by 451 Research (451 Global Digital Infrastructure Alliance) found that 53% of the survey respondents expect to see high spending on web hosting and cloud in the coming 90 days while, only 3% expected a decrease.
Amongst this, SaaS and application hosting will incur major area of spending (51%), followed by infrastructure services (29%) and managed services (10%).
It will be a golden opportunity for the managed service providers, as the report also stated that users of SaaS and application hosting services will spend 59% on managed services.
Another study by Forrester, revealed that more than half of European enterprises use one or more public cloud platforms like Amazon Web Services (AWS) or Microsoft Azure.
This shows that enterprise cloud spending is growing.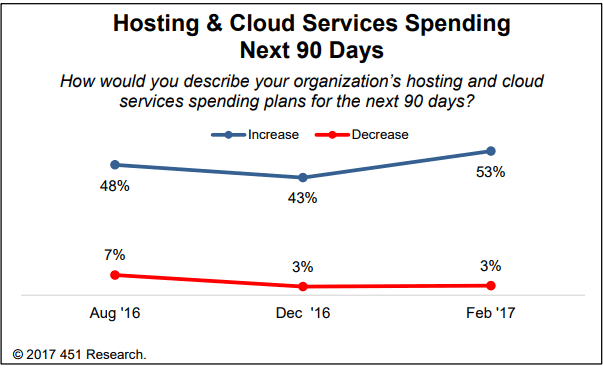 2) Infrastructure monitoring and alerting is the most used managed service
The 451 Research report suggested that the infrastructure/application monitoring and alerting services will be the most used managed service, accounting for 53%. It will be followed by other managed services like Backup and Recovery (49%) and Disaster Recovery (41%).
This can be due to the increasing concerns for data security. Organizations look for reliable services that provide complete security to their valuable business data. Managed service providers by offering DR and Backup services ensure that the organization's data is protected against any sudden disasters and is recoverable in case of any loss.
3) Growth in channel partner MSPs and M&As
MSPs will see a rise in the number of customers who look for complete technical support and migration apart from the basic implementation services.
Some may even start running partner programs for their resellers to help them manage the end customers. This will help MSPs reach the market faster.
SMB customers prefer a unified provider of services, hence Managed Services' industry is witnessing an increasing number of M&As (Mergers and Acquisitions).
For this, the service providers need to re-align every business process and evaluate resources, lines of business, system integrations, brand value proposition etc. Both organizations need to ensure their financial health and capacity before getting into any M&A activity.
4) Bundled IT solutions' trend
Rise of new, innovative services in the cloud and hosting will be a normal affair. To accommodate all these services in a unified offering, MSPs have started offering bundled solutions.
"The markets for unmanaged IaaS and SaaS are dominated by large, hyper-scale vendors. However, this spending trend indicates there is an appetite for the type of bundled services a broader market of managed service providers are well positioned to deliver. A strong opportunity exists for service providers offering a diversified set of hosting and cloud services that includes infrastructure and application hosting, as well as managed services and security services delivered around them." -Liam Eagle, Research Manager at 451 Research.
In the coming years, too, bundled solutions will be a good way to upsell and cross-sell services. This is because they stand as enterprise-wide solutions, fulfilling all requirements at one place – a win-win solution for the end customer and the seller.
5) Shifting focus on hybrid and multi-cloud management services
Earlier, enterprises went either to a privately hosted solution or a public cloud, but now they want to make use of mixed benefits of both, through hybrid cloud.
Gartner predicts that by 2020, 90 percent of organizations will adopt hybrid infrastructure management capabilities.
The rise in the hybrid cloud adoption is making MSPs shift their focus towards the flexibility and versatility of hybrid cloud solutions.
"As the demand for agility and flexibility grows, organizations will shift toward more industrialized, less-tailored options. Organizations that adopt hybrid infrastructure will optimize costs and increase efficiency. However, it increases the complexity of selecting the right toolset to deliver end-to-end services in a multi-sourced environment." – DD Mishra, research director at Gartner.
Hybrid cloud can meet the needs of the cloud customers for a wholesome solution, while providing MSPs with various opportunities to provide the needed services, manage and support the multi-sourced hybrid environment.